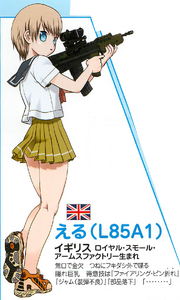 Elle える Eru is another close friend of Funco, and also Ichiroku's roommate.
She is a British L85A1 assault rifle (her name stands for the letter "L" in her weapon's name).
Shy and clumsy, she has an unreliable nature and the habit of breaking a lot, but is very enduring for the sake of her friends, just like her namesake gun. She idolizes Funco's elder sister Fal.